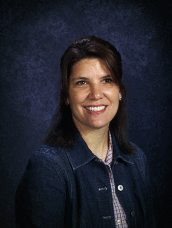 Kim Lee: klee@carroll.k12.ia.us

Kim Lee, received a B.A. in Spanish Education from the University of Northern Iowa in 1989. She previously taught at Fort Dodge Senior High School and Pocahontas High School. Mrs. Lee began teaching at Carroll High School in 1992 and presently is teaching Spanish 2, 3, and 4. She sponsored a student trip to Mexico and four student trips to Spain and France. Foreign travel includes Dominican Republic, Mexico (Merida, Cancun, Mexico City, Teapa), Spain (Madrid, Zaragoza, and Barcelona), and Paris, France.

Debra Fish: dfish@carroll.k12.ia.us

Debra Fish received a BS in English and Journalism from Northwest Missouri State University, Maryville, in '83. She also is licensed to teach Spanish. Mrs. Fish joined the CHS staff in 1999. She previously taught at Malvern, as well as a number of high schools throughout Southwest Iowa as a substitute teacher. Mrs. Fish has sponsored the CHS student newspaper and a trip to France and Spain for the foreign language department.